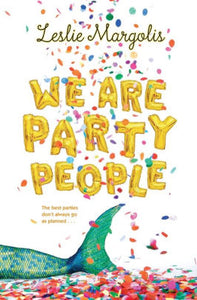 In this middle-grade contemporary novel, a shy girl with party-planner parents learns that stepping out of her comfort zone might not be so scary after all.
"I am the opposite of a mermaid and that's exactly the way I like it."
Shy and quiet, Pixie Jones does everything she can to fade into the background. All she wants is to survive middle school without being noticed. Meanwhile, her parents own the best party-planning business in town. They thrive on attention, love being experts in fun, and throw themselves into party personas, dressing as pirates, princes, mermaids, and more. When her mom leaves town indefinitely and her new friend Sophie decides to run for class president, Pixie finds herself way too close to the spotlight. How far is she willing to go to help the people she loves?
Sweet, brave, and laugh-out-loud funny, We Are Party People by Leslie Margolis is a story of quiet triumph.