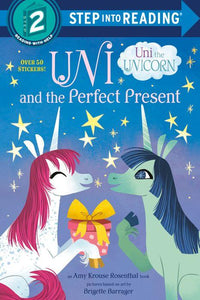 Uni the Unicorn for early readers! Another exciting Uni adventure that children will love in the Step into Reading series!
Uni is generous and wants to give Silkie a special present for his birthday. But Uni doesn't have anything! So, Uni asks different animals what 
they
 think the perfect present is. Uni gives Silkie many gifts on their special day together but there is one that is the most special.
Uni the unicorn is a charming and relatable character! Fans of the picture books, as well as new Uni fans, will be excited to join this bighearted unicorn and friends on a new adventure of learning about disappointment and gratitude. Look for all the Uni readers:
Uni the Unicorn Bakes a CakeUni the Unicorn Goes to SchoolUni's First Sleepover
Step 2 readers use basic vocabulary and short sentences to tell simple stories. They are perfect for children who recognize familiar words and can sound out new words with help.