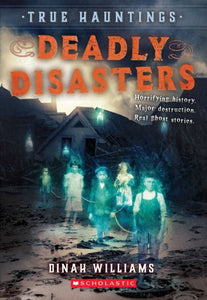 Scary stories of thrilling survival ... and restless spirits.

Disasters can strike anytime, anywhere, leaving death and destruction in their wake. But what can also be left behind? Ghosts.

In True Hauntings: Deadly Disasters, veteran ghost writer Dinah Williams explores the stories and alleged hauntings of some of the deadliest catastrophes in history, from lost souls left behind in the 2011 Japanese tsunami to a headless ghost frightening miners deep underground.

With historical photos and sidebars that are equal parts educational and terrifying, readers will find that sometimes fact is even scarier than fiction.
Product details
Lexile Measure :

 

1020L

Grade Level :

 

3 - 7

Item Weight :

 

3.2 ounces

UNSPSC-Code :

 

55101500

Paperback :

 

112 pages

ISBN-13 :

 

978-1338355840

ISBN-10 :

 

1338355848

Product Dimensions :

 

5.2 x 0.3 x 7.5 inches

Publisher :

 

Scholastic Nonfiction; Illustrated Edition (July 7, 2020)

Language: :

 

English

Reading level :

 

8 - 12 years