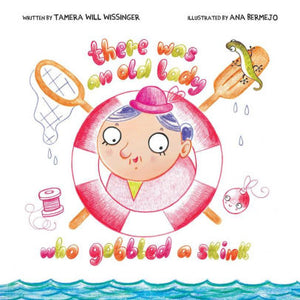 There was an old lady who gobbled a skink. And a worm and a pail and a line and an oar and much more in this hilarious book about a crazy fisherwoman who swallows all the essentials for a successful fishing trip. With the ever looming threat of "perhaps she'll sink," readers will hold their breath in anticipation as she gobbles her way through the tackle box and then the boat! With an already impressively full stomach, she reaches for just one last bite . . . but to find out how the story ends, you have to read the book!

A wonderfully humorous take on a classic nursery rhyme by Tamera Will Wissinger, accompanied by Ana Bermejo's fun-filled illustrations, this story will delight children, adults, and all those who like fishing. It's perfect for reading aloud and sure to be read (and perhaps even sung) again and again.

Intended for preschool-aged children, this silly story is sure to be a fun read-aloud both at home or at school/daycare. It's also the ideal gift for kids whose parents or grandparents love to fish or to explore the outdoors and might even inspire a few to try fishing at some point (hopefully without gobbling any of the tackle!).

Sky Pony Press, with our Good Books, Racehorse and Arcade imprints, is proud to publish a broad range of books for young readers—picture books for small children, chapter books, books for middle grade readers, and novels for young adults. Our list includes bestsellers for children who love to play Minecraft; stories told with LEGO bricks; books that teach lessons about tolerance, patience, and the environment, and much more. While not every title we publish becomes a New York Times bestseller or a national bestseller, we are committed to books on subjects that are sometimes overlooked and to authors whose work might not otherwise find a home.