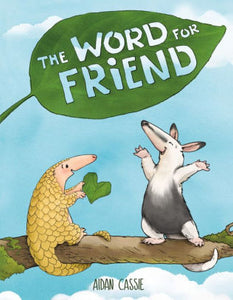 From author/illustrator Aidan Cassie, the creator of Sterling, Best Dog Ever andLittle Juniper Makes It Big!, comes The Word for Friend, an adorable and timely picture book story about ways to welcome, friendship, and overcoming language barriers that will connect classmates and cultures alike.
Kemala the pangolin is sure she's going to make friends at her new school in her new country. After all, Kemala
loves
to talk. The kids at school like talking, too—but their words are all different. This country speaks a language Kemala doesn't know.
At first, no one understands Kemala either. This realization makes her curl into a little ball, like most pangolins do when they're nervous. But a classmate helps draw her out with an art project that doubles as a vocabulary exchange. Soon, Kemala is learning the most universal language of all: friendship.