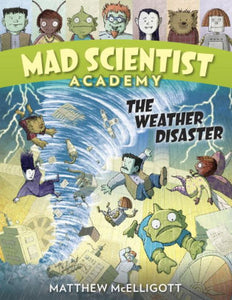 Fans of Ada Twist, Scientist, will want to join Dr. Cosmic's class of clever monsters as they face down snow, floods, and a dangerous thunderstorm when freak weather conditions threaten the school in the second book of the Mad Scientist Academy series.
 
Dr. Cosmic can't wait to introduce the students to his latest invention, the CHAOS machine, designed to keep the school at the right temperature for learning. But when the machine starts to malfunction, causing extreme weather conditions, the students must use their upgraded handbooks to stop CHAOS before it destroys the entire school!
 
Join Dr. Cosmic's clever class of monsters as they solve the greatest challenges in science, in this blend of adventure and exploration, perfect for Common Core and STEM.