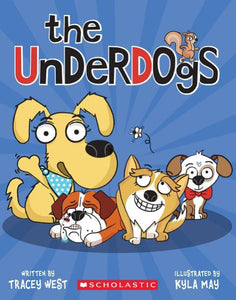 From the writer of the bestselling Dragon Masters series and the illustrator of the bestselling Diary of a Pug series comes a high-energy, illustrated chapter book series about four dogs who learn that being yourself is much more fun than being Best in Show.
Welcome to the town of Barksdale, where the canine residents strive for perfection. Every shopkeeper claims to be the "best groomer" or sell the "best biscuits." And at Barksdale Academy, the pressure is on every year for one pup to be named Best in Show.
Nova, Duke, Harley, and Peanut have never won Best in Show... which is okay with them! But they have to work together to pass their Agility Exam, because either the whole pack passes or the whole pack fails.
Nova has convinced her pals to train, but on her practice course, Duke is afraid to climb the high ramp, Harley keeps chasing squirrels, and Peanut can't make it through the hoops. Nova's not doing much better — she's so excited she keeps knocking the whole course over!
Will the pups make the grade, or are they doomed to be Underdogs forever?
With black-and-white illustrations on every page and hilarious antics throughout, this series is perfect for readers who are just starting to read chapter books on their own, or for anyone who loves a good underdog story!