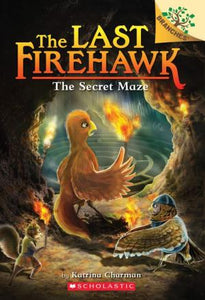 Tag, Skyla, and Blaze need to find a way back home to Perodia, in this action-packed fantasy series!
Pick a book. Grow a Reader!
This series is part of Scholastic's early chapter book line, Branches, aimed at newly independent readers. With easy-to-read text, high-interest content, fast-paced plots, and illustrations on every page, these books will boost reading confidence and stamina. Branches books help readers grow!
Tag and his friends have found Blaze's firehawk family! Now Tag and Skyla want to return home to Perodia. But they're trapped in the Land of the Firehawks! To get home, they must find their way through a mysterious underground maze. But the maze is full of confusing turns, and magical secrets. Will the friends be able to make it back to Perodia? And what dangers will they meet along the way? This fully illustrated series makes a great introduction to fantasy and quest stories for younger readers!