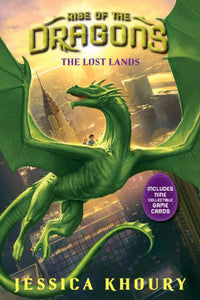 A thrilling series that puts YOU in the center of the action with collectible dragon game cards.

Sirin, Allie, and Joss have joined forces with the legendary silver dragon Lysander, the only creature capable of opening portals between the two worlds. But the powerful Lennix clan is following the children's every move and will stop at nothing to capture Lysander. After generations of plotting, the Lennixes-and their bloodthirsty dragon allies, the Raptors-are terrifyingly close to establishing a brutal dragon regime on Earth, just like they did centuries ago.

Now, it's up to Allie, Joss, and Sirin to protect Lysander while searching for a secret source of lost dragon magic, the only force powerful enough to stop the Raptor. But when their search takes them to one of the largest cities on Earth, the new friends must decide what's more important: finding the missing treasure or guarding the most important secret in the world-that dragons have returned to Earth. . . and not all of them have good intentions.