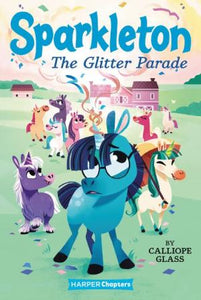 Sparkleton's super-gloomy best friend gets THE MOST EMBARRASSING unicorn magic ever just in time for the town's big parade in the second book of this highly illustrated early chapter book series about a shaggy purple unicorn who 

can't wait

 to have wish-granting powers.

 


It's a magic emergency! Sparkleton's friend, Gabe, gets his unicorn magic just in time to star in Shimmer Lake's big parade! But Gabe's new power is more embarrassing than a garden of moldy mushrooms.

Luckily, Sparkleton has a glitterrific idea to help his friend before Gabe has to perform the worst magic ever in front of everyone he's ever known!

HarperChapters build confident readers one chapter at a time! With short, fast-paced books, art on every page, and milestone markers at the end of every chapter, they're the perfect next step for fans of I Can Read!