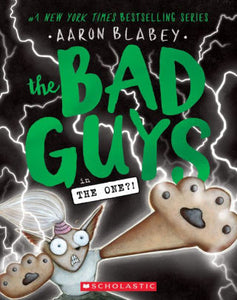 SOON TO BE A MAJOR MOTION PICTURE!
"I wish I'd had these books as a kid. Hilarious!" -- Dav Pilkey, creator of Captain Underpants and Dog Man
They may look like Bad Guys, but these wannabe heroes are doing good deeds... whether you like it or not! This
New York Times
bestselling illustrated series is perfect for fans of Dog Man and Captain Underpants.
Seriously,
WHAT
is going on with Snake?! Terrible powers have been revealed! Evil allies have materialized! Inter-dimensional doors have opened! Shady-looking cloaks have been purchased! What is his
deal
?!
And that's not all! Why does Agent Fox suddenly have a whole lot more backstory than we'd counted on?! Dang it! We need answers!
WHAT IS GOING ON HERE?!
Wolf and the gang are back. And things are worse than ever. Or
badder
than ever... if you think that sounds cooler and don't have a problem with
bad
grammar.
BAD GUYS #12 WILL
MELT YOUR BRAIN...