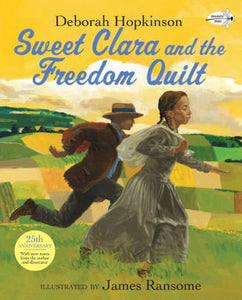 An inspiring tale of creativity and determination on the Underground Railroad from Coretta Scott King Award winner James Ransome and acclaimed author Deborah Hopkinson.
Clara, a slave and seamstress on Home Plantation, dreams of freedom—not just for herself, but for her family and friends. When she overhears a conversation about the Underground Railroad, she has a flash of inspiration. Using scraps of cloth from her work in the Big House and scraps of information gathered from other slaves, she fashions a map that the master would never even recognize. . . .
From the award-winning author-illustrator team of Deborah Hopkinson and James Ransome, this fictional tale of the Underground Railroad continues to inspire young readers 25 years after its original publication.
"Inspiring."
—
The New York Times