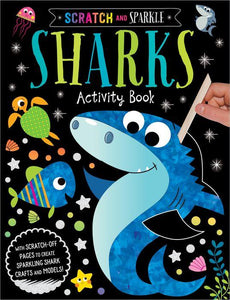 A shark-themed scratch-and-sparkle activity book, with a wooden scratcher and scratch-and-reveal card pages!
Dive into this jaw-some book packed with shark-themed activities. Search for sunken treasure, escape from a maze, and explore the unknown depths!
At the back of the book you will find scratch-and-reveal card pages. Use the wooden scratcher to create glittering and multi-colored shark crafts, and then press out the shapes to make a sunken ship, swimming sharks, and much more!