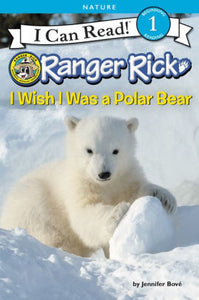 Explore the lives of polar bears with Ranger Rick in this beginning reader with full-color photos of polar bears in the wild!  This I Can Read book is an excellent choice to share during homeschooling, in particular for children ages 5 to 7 who are ready to read independently. It's a fun way to keep your child engaged and as a supplement for activity books for children.
What if you wished you were a polar bear and then you became one? Could you eat like a polar bear? Talk like a polar bear? Live in the cold Arctic tundra? And would you want to? Find out!
Ranger Rick explorers can learn all about polar bears in this reader full of fascinating facts, vivid wildlife photographs, a Wild Words glossary, and a paws-on activity that shows readers how blubber works using ice water and vegetable shortening! Ranger Rick, the iconic raccoon ambassador from Ranger Rick magazine, asks questions like: Would you want to nap on the snow? Brrr!
Ranger Rick: I Wish I Was a Polar Bear is a Level One I Can Read book, which means it's perfect for children learning to sound out words and sentences.