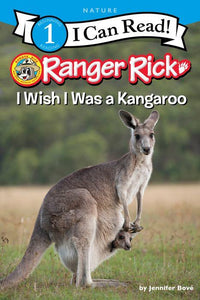 Explore the lives of kangaroos with Ranger Rick in this Level One I Can Read with vivid color photos!
What if you wished you were a kangaroo and then you became one? Could you eat like a kangaroo? Move like a kangaroo? Live in a kangaroo family? And would you want to? Find out!
This Level One I Can Read answers questions for beginning readers about kangaroos. This format engages young readers by comparing and contrasting the life of the kangaroo to the life of the reader. In call-outs, Ranger Rick asks the reader things like: Can you hop like a kangaroo?
Did you know that some kangaroos are great swimmers? Did you know that kangaroos are really fast and can hop up to 40 miles per hour? From Tree Kangaroos to the Rock Wallaby to the more familiar Red Kangaroos, young Ranger Rick explorers will love this Level One I Can Read that helps beginning readers dig a little deeper into the amazing lives of kangaroos.
Ranger Rick: I Wish I Was a Kangaroo is complete with fascinating facts, vivid photographs, a Wild Words glossary, and a hands-on activity where you find out how far you can jump—just like a kangaroo!
This Level 1 I Can Read story is perfect for children ages 5 to 7 who are ready to read independently. Whether shared at home or in a classroom, the short sentences, familiar words, and simple concepts of Level One books support success for children eager to start reading on their own.