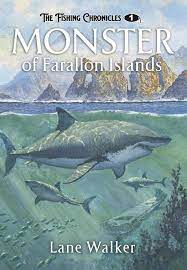 Back Cover Reading: 
The 25-foot shadow passed under the boat, revealing it was a giant, great white shark!

Casey James, a fishing obsessed 14-year-old, loved any time he got to spend aboard the Orca II, his dad's charter fishing boat. The beautiful coastal waters just south of San Francisco provided great fishing and adventure on every trip, especially when venturing to the Farallon Islands.

Each fall, the waters surrounding the Farallon Islands become populated with one of the most powerful and largest of animals, the great white shark. These sharks are extremely aggressive and hold the interest of many, especially Casey.

A late October fishing trip took an unexpected turn when the Orca II received an emergency SOS from the S.S. Atlantis. They rescued the crew just before the huge freighter sank to the dark depths of the Pacific. As the ship went down, a mystery began to surface. A long-protected secret...

Casey discovers that the dazzling blue waters of the Pacific Ocean hold a deep secret from the past. A 25-foot giant, great white shark and a surfing competition with a $500,000 grand prize just add to the chaos and mystery of the Monster of Farallon Island!

A shipwreck, a greedy billionaire, and a record-sized great white shark are about to invade Casey's life. Who or what will survive? Can man and beast coexist in the Pacific Ocean?