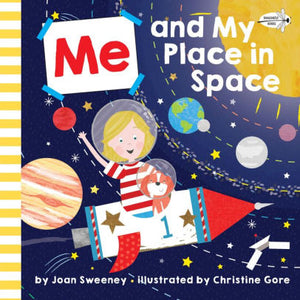 Where am I in the solar system? A beloved bestseller, now refreshed with new art from Christine Gore, that will help children discover their place in the Milky Way.
     Where is the earth? Where is the sun? Where are the stars?
     Now with new art by Christine Gore, here is an out-of-this world introduction to the universe for children. With Earth as a starting point, a young astronaut leads readers on a tour past each planet and on to the stars, answering simple questions about our solar system. In clear language, drawings, and diagrams, space unfolds before a child's eyes. Colorful illustrations, filled with fun detail, give children a lot to look for on every page, and a glossary helps reinforce new words and concepts. A terrific teaching tool, 
Me and My Place in Space
 is an easy and enjoyable way to introduce the concept of space to budding astronomers.