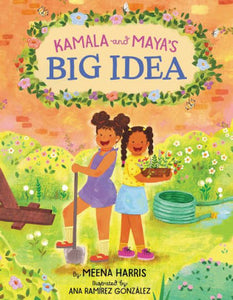 A beautiful, empowering picture book about two sisters who work with their community to effect change, inspired by a true story from the childhood of Meena Harris's aunt, US Senator Kamala Harris, and Meena's mother, lawyer and policy expert Maya Harris. Share this inspiring picture book with young readers to help introduce vice presidential candidate Kamala Harris.
 One day, Kamala and Maya had an idea. A big idea: They would turn their empty apartment courtyard into a playground!
This is the uplifting tale of how the author's aunt and mother first learned to persevere in the face of disappointment and turned a dream into reality. This is a story of children's ability to make a difference and of a community coming together to transform their neighborhood.
A New York Times bestseller!