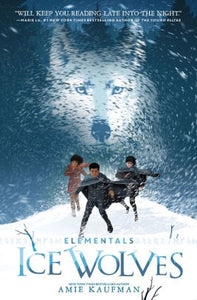 From 
New York Times
 bestselling author Amie Kaufman comes the first book in an electrifying series about a brother and sister who must harness their powers and find their place in a sharply divided world.
Everyone in Vallen knows that ice wolves and scorch dragons are sworn enemies who live deeply separate lives.
So when twelve-year-old orphan Anders takes one elemental form and his twin sister, Rayna, takes another, he wonders whether they are even related. Family or not, Rayna is Anders's only true friend. She's nothing like the brutal, cruel dragons who claimed her as one of their own and stole her away.
To rescue her, Anders must enlist at the foreboding Ulfar Academy, a school for young wolves that values loyalty to the pack above all else. But for Anders, loyalty is more complicated than obedience, and friendship is the most powerful shapeshifting force of all.
"If you've ever wanted to go on an adventure, read this book." — Marie Lu, #1 New York Times bestselling author of The Young Elites
Anders's and Rayna's adventures continue in Elementals: Scorch Dragons, and the dramatic conclusion to the trilogy, Elementals: Battle Born!