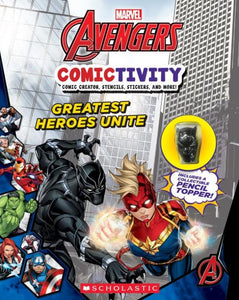 This Marvel Avengers Comictivity book is full of action-packed activities and comic creators and comes with two sticker sheets, stencil, and Black Panther pencil topper!
The greatest super heroes in the world are gathered in this book to defend the galaxy from evil, and they need your help in this fun-filled activity book! Within these pages, you'll hone your crime-fighting skills by decoding messages from Nick Fury, solving mazes and puzzles featuring your favorite champions, and coloring in the coolest Avenger symbols meant for your eyes only. Plus, it comes with an awesome Black Panther pen topper!
But that's not all!
There are also three action-packed comics for you to finish with stickers and stencils any way you like! What happens when Thor, Falcon, and Giant Man take on Thanos? What secrets await Iron Man, Doctor Strange, and Captain America at the far reaches of the globe? Suit up and get ready. It's time to turn the page and prove you've got what it takes to become an Avenger!