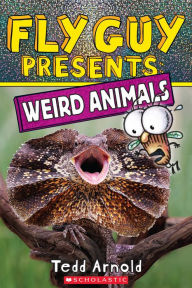 Fly Guy is buzzing to learn all about the world's weirdest animals!
While on a field trip to the zoo, Buzz and Fly Guy discover the world is filled with weird and unusual animals! From blobfish to naked mole rats, there's plenty for the best friends to explore.
Award-winning author-illustrator Tedd Arnold brings nonfiction to life for beginning readers in the next book in the kid-favorite Fly Guy Presents series. There are humorous illustrations and engaging photographs throughout. And the front cover features eye-catching holographic foil!