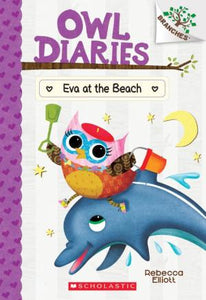 It's summertime and Eva Wingdale is going to the beach!
Pick a book. Grow a Reader!
This series is part of Scholastic's early chapter book line, Branches, aimed at newly independent readers. With easy-to-read text, high-interest content, fast-paced plots, and illustrations on every page, these books will boost reading confidence and stamina. Branches books help readers grow!
Eva is visiting the beach with her best friend Lucy! They can't wait to build sandcastles and make seashell necklaces. But Eva is secretly afraid to go swimming because of the big fish -- like sharks! -- that live in the sea. After Eva hears the "Legend of the Mermowls" and spots her classmate Sue in the water, the sea doesn't seem so scary. Will Eva face her fears and maybe find some magic at the beach, too?
Rebecca Elliott's sweet text and full-color artwork on every page bring this story to life for young readers!