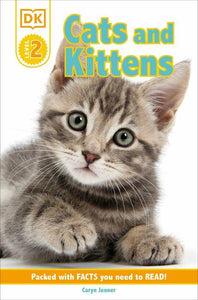 Does your child love cute kittens and friendly cats? This children's reading book will teach them how to read while learning amazing facts about cat breeds.

In this chapter book for children, readers will discover the varied characteristics of cats and kittens. Fascinating information is paired with adorable photographs of cats and kittens, providing an ideal balance of words and images for children learning to read.

Created with the help of literacy consultants, Cats and Kittens is the perfect book to help build general knowledge while learning to read. Simple and clear advice is also given on how to take care of this popular family pet. This book will capture their interest and encourage reading for pleasure, which is linked with improved reading and writing skills.

Cats and Kittens is a new Level 2 DK Reader, aimed at children who are learning to read. Helping to develop a lifelong love of reading, DK Readers cover a vast range of fascinating subjects to support children as they become confident readers.