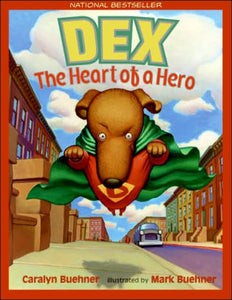 The national bestselling story about the underdog who comes out on top!
Little Dex has big dreams: he wants to be a superhero. So he reads all the comic books he can, builds his muscles, and even orders a hero costume. Once he has all the makings of a hero, Dex's first mission is to save a tomcat in need of help. However, the cat is a classic bully who teases Dex about his size.
Will Dex learn that a hero is not defined by the strength of his muscles but by the trueness of his heart?
Husband and wife Caralyn and Mark Buehner tag-team to create a fun and modern superhero tale with a real comic book feel, askin to Even Superheroes Have Bad Days by Shelly Becker and Ten Rules of Being a Superhero by Deb Pilutti.
Dexter has determination, spirit, and heart as he proves, above all, that no matter how little you are, you can still do very big things.
And don't miss the companion story, Superdog: The Heart of a Hero!