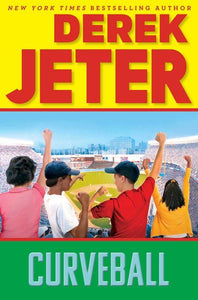 In the fifth book in the

 

New York Times

 

bestselling middle grade series inspired by the life of iconic New York Yankee Derek Jeter, Derek spends the summer with his grandparents in Pequannock Township, New Jersey.Sometimes, you were looking for role models. And sometimes, you were being one yourself.

Derek is having the best summer yet! Fun on the lake with his cousins, baseball, and a visit from his best friend, Dave: what more could he ask for? It gets even better when Derek gets to go to a Yankees game and meets a bunch of kids who play ball near the stadium, and they're good. Awesome, actually, especially Jumbo and Tiny. Derek can't wait to introduce them to Dave, but Grandma says if he wants to go to another Yankees game, he'll have to earn some of the money for tickets himself. This means spending quality time with Grandpa mowing lawns and learning the meaning of hard work.

Derek brings Dave to meet Tiny and Jumbo, whom Derek admires. But when Jumbo tries to convince Derek to do something he's sure will get him in trouble, Derek has to rethink who his role models are.

Inspired by Derek Jeter's childhood, Curveball is the fifth book in Jeter Publishing's 

New York Times

 bestselling middle grade baseball series that focuses on key life lessons from Derek Jeter's Turn 2 Foundation.