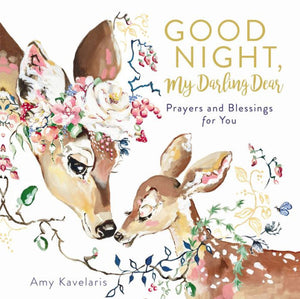 Hold your little one close as you celebrate your love for one another. This exquisitely illustrated book honors the wonder of childhood, dreams of who your little one will someday become, and marvels at all that God has in store. Amy Kavelaris's signature flower-crown art and poetic writing invite you and your child to enjoy peaceful moments before bed with delightful parent-and-child animal pairs.
Good Night, My Darling Dear makes an excellent baby shower gift or display book in a new nursery. Its keepsake quality also makes it a wonderful way to celebrate an adoption or birth announcement with a friend or grandparents.
This whimsical and heartwarming picture book calls you to enjoy the beauty of God's artistry across the skies and in the child resting in your arms.