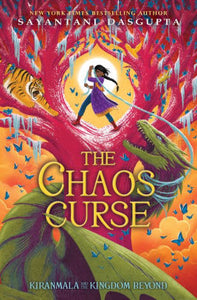 Creating order out of chaos has frightening consequences in this

 

New York Times

 

bestselling series!

Kiranmala must leave the Kingdom Beyond and travel to her hometown of Parsippany to save Prince Lal, who has been spirited to the unlikeliest of places -- a tree in the yard of her best-enemy-for-life. She also faces evil serpents (of course!), plus a frightening prophecy about her role in the coming conflict between good and evil. Most troubling of all, though, is the way reality all around her seems to waver and flicker at odd moments. Could it be that the Anti-Chaos Committee's efforts are causing a dangerous disruption in the multiverse?

Kiran must grapple with the increasingly tangled threads that threaten to ensnare her...and everyone in the world and the Kingdom Beyond.
Product details
Age Range:

 

8 - 12 years

Grade Level:

 

3 - 7

Lexile Measure:

 

820

 



Series:

 

Kiranmala and the Kingdom Beyond (Book 3)

Hardcover:

 

400 pages
Publisher:

 

Scholastic Press (March 3, 2020)
Language:

 

English
ISBN-10:

 

1338355899
ISBN-13:

 

978-1338355895
Product Dimensions:

 

6 x 1.2 x 8.5 inches
Shipping Weight:

 

1.1 pounds