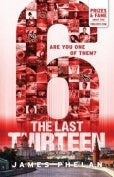 13 BOOKS. 13 NIGHTMARES. 1 DESTINY.
I don't know what's real and what's not anymore. The barrier between dreams and reality is more blurred than ever as Sam is drawn into an age-old battle for the Dreamscape. Even more confusing is that the next Dreamer seems to know as much as Sam about the importance of her dreams and the search for the Gears. From the Kremlin in Moscow to the wilds of Siberia, Sam is involved in a race-within-the-race with an old adversary with a sinister way of staying one step ahead.
The more Sam and his friends dream, the less they will remember...