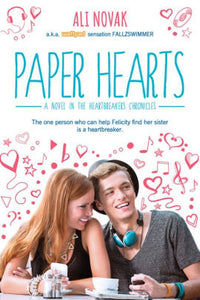 "I'm sorry," he said, slowly untying the ribbon that held his mask in place. "It's just-I didn't want you to think of me any differently."
Somehow I kept my mouth from falling open. I knew his face, but my mind couldn't accept that he was the person looking down at me.
"My real name is Alec."
Felicity has her entire future planned. Ever since her older sister ran away, she's had the full weight of her mother's expectations on her shoulders. So she works hard to get straight As and save for college.
Except sometimes the best things in life are unplanned-like when Felicity meets a handsome, masked stranger while she is volunteering at a charity masquerade ball. She never thought he'd flirt with her. And she certainly never thought he'd turn out to be a member of the world-famous Heartbreakers band, Alec.
Then Felicity uncovers a shocking family secret. Suddenly, she, Alec, and her two best friends are off on a road trip to find Felicity's missing sister. And she's about to discover that unexpected turns have a peculiar way of landing her right where she needs to be...
Product details
Series:

 

The Heartbreak Chronicles (Book 2)

Paperback:

 

400 pages
Publisher:

 

Sourcebooks Fire (July 4, 2017)
Language:

 

English
ISBN-10:

 

9781492653363
ISBN-13:

 

978-1492653363
ASIN:

 

1492653365
Product Dimensions:

 

5.5 x 1.2 x 8 inches
Shipping Weight:

 

15.2 ounces