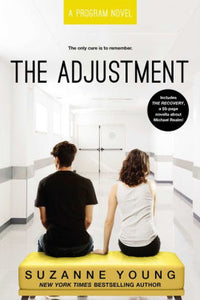 How do you go back to a life you can't remember? Find out in this fifth book in the New York Times bestselling Program series.

Tatum Masterson never went through The Program. She never had her memory stripped, never had to fight to remain herself. But when Weston, her longtime boyfriend and love of her life, was taken by handlers, she hoped he'd remember her somehow—that their love would be strong enough.

It wasn't.

Like all returners, Weston came back a blank canvas. The years he and Tatum spent together were forgotten, as well as the week when he mysteriously disappeared before The Program came for him.

Regardless of his memory loss, Tatum fights to get Weston to remember her. And just as they start to build a new love, they hear about the Adjustment—a new therapy that implants memories from a donor. Despite the risks, Tatum and Weston agree to go through the process. Tatum donates her memories from their time together.

But the problem with memories is that they are all a matter of perspective. So although Weston can now remember dating Tatum, his emotions don't match the experiences. And this discrepancy is slowly starting to unravel him, worse than anything The Program could have done.

And as the truth of their life together becomes clear, Tatum will have to decide if she loves Weston enough to let him go, or to continue to live the lie they'd build together.

Prepare for your Adjustment.
Product details
Series:

 

Program (Book 5)

Paperback:

 

480 pages
Publisher:

 

Simon Pulse; Reprint edition (April 24, 2018)
Language:

 

English
ISBN-10:

 

1481471333
ISBN-13:

 

978-1481471336
Product Dimensions:

 

5.5 x 1.1 x 8.2 inches
Shipping Weight:

 

13.4 ounces