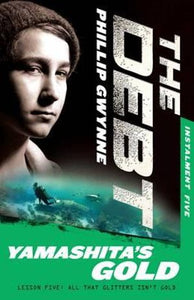 Book five of a high-octane thriller series. Dom has two more Herculean tasks to perform...or lose a pound of flesh. In this instalment he must locate the rumoured treasure of Yamashita's Gold.

The Debt was the worst thing to have come into my life. It had almost killed me about a dozen times in a dozen different ways. But here I was wanting, willing, it to contact me. To give me the next instalment.

After Rome, Dom has quit running. He's still training, though. Swimming lap after lap of the pool. And waiting.

Until Dom receives another threatening message. In Latin. He doesn't know who is after him now, but he hopes it's The Debt. He's pieced together the puzzle of the previous instalments, and he knows that the fifth one must be the search for Yamashita's Gold - the legendary treasure looted during the Second World War that might have ended up in the waters of Diablo Bay.

But for months he's heard nothing from The Debt. Just silence and more silence from this shadowy organisation. Could this message be it?

But if Dom goes out searching, he won't be the only one looking for gold. And The Debt won't be the only organisation looking for Dom. It might be desperate times, desperate measures, but there's only one person looking out for Dom Silvagni - himself.

About the Author

Phillip Gwynne's first novel Deadly Unna? was the literary hit of 1998 winning Children's Book of the Year and selling over 200,000 copies. It was made into the feature film Australian Rules for which Phillip's screenplay won an AFI award in 2002. Since then Phillip's novels have all received both high acclaim and popularity amongst readers including his young adult novel Swerve which was shortlisted for many awards amongst them the 2010 Prime Minister's Award and the Golden Inky.

Phillip's also no stranger to writing thrillers as he has written an adult detective thriller The Build Up, but The Debt is his first series for upper-primary school readers and combines both his substantial literary skills and his ability to tell a good story.
ISBN: 9781742378619
ISBN-10: 1742378617
Series: THE DEBT
Audience: Children
For Ages: 9+ years old
Format: Paperback
Language: English
Number Of Pages: 400
Published: 1st September 2013
Publisher: Allen & Unwin Australia
Country of Publication: AU
Dimensions (cm): 19.8 x 12.8  x 2.9
Weight (kg): 0.35
Edition Number: 1