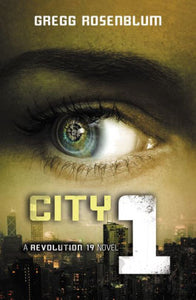 From the creators of Homeland and American Horror Story comes City 1, the chilling finale to the Revolution 19 trilogy.
The time has come to win the cities back from the bots—or die trying.
After finally reuniting at a rebel camp, siblings Nick, Kevin, and Cass are willing to do anything to stay together—and free their parents from bot rule. But the leader of the rebel camp has her own ideas. Cruel and determined, General Clay won't let anything stand in the way of her plan to destroy the robots and all the brainwashed humans. This means their parents' lives are at stake, but Nick, Kevin, and Cass can't desert the rebels when they're so close to freedom. How far will they go to save the world they believe in?
Product details
Series:

 

Revolution 19 (Book 3)

Paperback:

 

288 pages
Publisher:

 

HarperTeen; Reprint edition (January 5, 2016)
Language:

 

English
ISBN-10:

 

0062126024
ISBN-13:

 

978-0062126023
Product Dimensions:

 

5.3 x 0.6 x 8 inches
Shipping Weight:

 

12.6 ounces