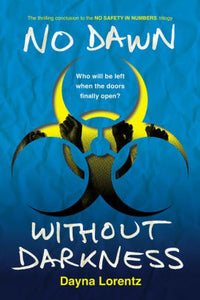 Perfect for fans of Life As We Knew It and Michael Grant's Gone—the conclusion to the thrilling No Safety in Numbers trilogy

First—a bomb released a deadly flu virus and the entire mall was quarantined.

Next—the medical teams evacuated and the windows were boarded up just before the virus mutated.

Now—the power is out and the mall is thrown into darkness. Shay, Marco, Lexi, Ryan, and Ginger aren't the same people they were two weeks ago. Just like the virus, they've had to change in order to survive. And not all for the better. When no one can see your face, you can be anyone you want to be, and, when the doors finally open, they may not like what they've become.

If you think it's silly to be afraid of the dark, you're wrong.
Very wrong.
Product details
Age Range:

 

12 and up

Grade Level:

 

7 - 9

Series:

 

No Safety In Numbers (Book 3)

Hardcover:

 

240 pages
Publisher:

 

Kathy Dawson Books; 3rd edition (June 17, 2014)
Language:

 

English
ISBN-10:

 

0803738757
ISBN-13:

 

978-0803738751
Product Dimensions:

 

5.8 x 0.9 x 8.6 inches
Shipping Weight:

 

12.8 ounces