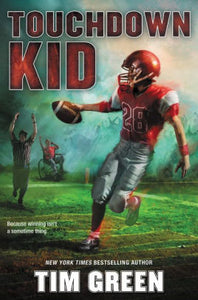 From New York Times bestselling author and former NFL defensive end Tim Green comes a football story about a boy who is given a chance to prove that wealth and privilege don't matter on the football field, as long as he has the skills to compete. Perfect for fans of Mike Lupica!
Cory has always been passionate about football. But life for him and his single mom has been hard, making it difficult for Cory to play. And though Cory is a good kid, he's constantly surrounded by negative influences. But when the coach from an elite private school with one of the best football programs in the country recognizes his talents on the field, Cory is presented with an unbelievable opportunity.
Cory knows that football could be his ticket out. But leaving to attend private school also means struggling to fit into a world where most people look at him and just see a scholarship kid from the wrong side of town. Cory knows that if he can fight hard enough—both on and off the field—he may be able to secure a bright future that looks different from his unpromising past.
Product details
Age Range:

 

8 - 12 years

Grade Level:

 

3 - 7

Lexile Measure:

 

710L

 



Hardcover:

 

320 pages
Publisher:

 

HarperCollins (October 3, 2017)
Language:

 

English
ISBN-10:

 

0062293850
ISBN-13:

 

978-0062293855
Product Dimensions:

 

6 x 1 x 9 inches
Shipping Weight:

 

1 pounds