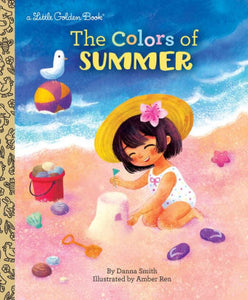 Celebrate the colors of summer with Little Golden Books!

TURQUOISE is the beach towel—
room enough for three.

PURPLE are my flip-flops.
No more shoes for me!

Spend a fun-filled summer day at the beach and discover the bright colors all around. Kids will love finding their favorites, from purple flip-flops and orange sand shovels to green towels and blue waves. This bright summer read will have little ones eager to visit this colorful beach time and time again.
Product details
Age Range:

 

2 - 5 years

Grade Level:

 

Preschool - Kindergarten

Series:

 

Little Golden Book

Hardcover:

 

24 pages
Publisher:

 

Golden Books (May 7, 2019)
Language:

 

English
ISBN-10:

 

1524773433
ISBN-13:

 

978-1524773434
Product Dimensions:

 

6.6 x 0.2 x 8 inches
Shipping Weight:

 

4.8 ounces