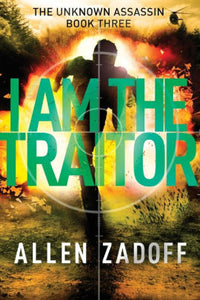 The Program has sent Boy Nobody on countless missions, instructed to kill whichever target he was given. But now, after going rogue, he is on his own mission to rescue his friend Howard, who was captured by The Program.

Boy Nobody manages to free Howard as well as Tanya, a mysterious girl who was being held with him. Putting their skills to the test, Howard and Tanya help Boy Nobody collect information about his father, eventually revealing a dangerous secret that teaches Boy Nobody a valuable lesson — he can't trust anyone.

On the run from The Program, Boy Nobody must face his past, as he's forced to decide where his loyalties lie.

Allen Zadoff packs the final installment in the Unknown Assassin trilogy with even more action, higher stakes, and mind-blowing reveals that will leave readers riveted.
Product details
Series:

 

Unknown Assassin (Book 3)

304 pages
Publisher:

 

Little, Brown Books for Young Readers; Reprint edition (June 7, 2016)
Language:

 

English
ISBN-10:

 

0316199745
ISBN-13:

 

978-0316199742