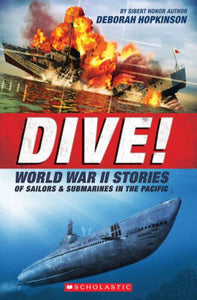 Dive! World War II Stories of Sailors & Submarines in the Pacific tells the incredible story of America's little known "war within a war" -- US submarine warfare during World War II.

Following the attack on Pearl Harbor, the US entered World War II in December 1941 with only 44 Naval submarines -- many of them dating from the 1920s. With the Pacific battleship fleet decimated after Pearl Harbor, it was up to the feisty and heroic sailors aboard the US submarines to stop the Japanese invasion across the Pacific.

Including breakouts highlighting submarine life and unsung African-American and female war heroes, award-winning author Deborah Hopkinson uses first-person accounts, archival materials, official Naval documents, and photographs to bring the voices and exploits of these brave service members to life.
Product details
Age Range:

 

8 - 12 years

Grade Level:

 

3 - 7

Lexile Measure:

 

1090

 



Paperback:

 

384 pages
Publisher:

 

Scholastic Inc.; Reprint edition (February 27, 2018)
Language:

 

English
ISBN-10:

 

054542559X
ISBN-13:

 

978-0545425599
Product Dimensions:

 

5.2 x 0.8 x 8 inches
Shipping Weight:

 

11.4 ounces