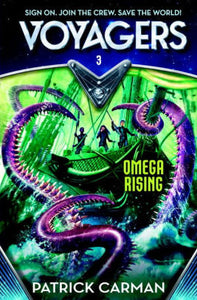 The action is on the page, on your device, and out of this world! This multiplatform series is part sci-fi, all action-adventure. And you don't have long to wait—six books are coming all in one year! 
 
Earth is in danger! The only things that can save our planet are six essential elements scattered throughout the galaxy. And it is up to the Voyagers—a team of four kids and an alien—to gather them all and return to Earth.
 
It isn't just the Voyagers out in space—they've got company in the form of Team Omega. Omegas have their own reasons for wanting the elements—and they'll do anything to win. The third planet, Aqua-Gen, has unbelievable new challenges in store. Sea monsters, pirates . . . Both teams better know how to swim.
 
Do you have what it takes to be a Voyager? Find out at VoyagersHQ.com.
Product details
Age Range:

 

8 - 12 years

Grade Level:

 

3 - 7

Lexile Measure:

 

730L

 



Series:

 

Voyager (Book 3)

Hardcover:

 

208 pages
Publisher:

 

Random House Books for Young Readers (January 5, 2016)
Language:

 

English
ISBN-10:

 

0385386648
ISBN-13:

 

978-0385386647
Product Dimensions:

 

5.8 x 0.8 x 8.5 inches
Shipping Weight:

 

2 pounds