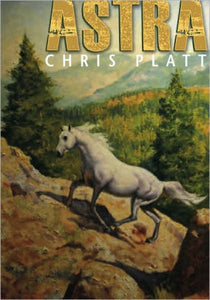 Horses are Lily's life, just like they'd been her mother's. But will her overprotective father stop her from fulfilling her—and her mother's—dreams?
Thirteen-year-old Lily O'Neil's passion is Arabian horses. Someday she wants to be a great endurance rider like her mother. But after a freak riding accident took her mother's life a year earlier, Lily's father forbade her to ride ever again.
When Lily's grandmother comes to live with them, however, she convinces Mr. O'Neil to let Lily clean stalls on the neighboring Arabian ranch, a place her mother had worked—and loved. Lily is ecstatic, especially since she'll be near her mother's favorite horse, Astra. But when Astra falls ill because of the negligence of her new rider, Lily must fight to save the life of her mother's beloved mare. Will Astra ever race again?
Chris Platt, a former jockey, has written a dramatic and memorable story of a young girl's fierce determination in the face of enormous odds. Featuring plenty of horse-filled action scenes and information about Arabian horses, endurance racing, and horse behavior, Astra is sure to delight equine enthusiasts.
Product details
Age Range:

 

8 - 12 years

Grade Level:

 

4 - 6

Lexile Measure:

 

730L

 



Hardcover:

 

176 pages
Publisher:

 

Peachtree Publishing Company (September 1, 2010)
Language:

 

English
ISBN-10:

 

1561455415
ISBN-13:

 

978-1561455416
Product Dimensions:

 

6 x 0.9 x 8.6 inches
Shipping Weight:

 

12.8 ounces