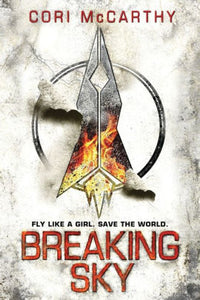 Top Gun meets The Grace Year in this sexy, feminist dystopian adventure from the co-author of Once and Future, featuring Nyx, an elite fighter pilot who must put everything on the line to save her country, including her pride. And her heart.
Chase Harcourt, call sign"Nyx", isn't one to play it safe. In 2048, America is locked in the second cold war—and the country's best hope is the elite teen fighter pilots of the United Star Academy. Chase is one of only two daredevil pilots chose to fly an experimental "Streaker" jet. All anyone cares about is that Chase aces the upcoming Streaker trails, proving the prototype jet can knock the enemy out of the sky. Only few know the pain and loneliness of her past.
As the world tilts toward war, Chase discovers a military secret. There's a third Streaker, and it's young pilot, Tristan, can match her on the ground and in the clouds. Chase doesn't play well with others, but to save her country, she'll have to put her life in the hands of the competition.
Breaking Sky is a gritty coming of age tale with tons of action, a fascinating dystopian society, humor, friendship, romance and heart-stopping, high-stakes flying that will leave you on the edge of your seat.
Praise for Breaking Sky:
"Smart, exciting, confident—and quite possibly the next Big Thing."—Kirkus
"Breaking Sky is an action-packed thrill ride that smashes through all kind of barriers at a Mach 5 pace."—Carrie Jones, New York Times bestselling author of the Need series
"Had me in its grip from take-off to landing. Chase is a kick-butt female and the swoon-worthy flyboys kept me up way past my bedtime." —Joy N. Hensley, author of Rites of Passage
Product details
Paperback:

 

432 pages
Publisher:

 

Sourcebooks Fire; Reprint edition (February 7, 2016)
Language:

 

English
ISBN-10:

 

1492621129
ISBN-13:

 

978-1492621126
Product Dimensions:

 

5.2 x 1.2 x 8 inches
Shipping Weight:

 

15.2 ounces