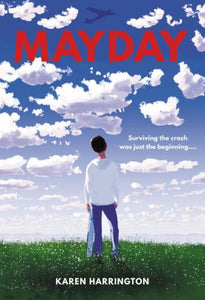 In the tradition of Counting By 7s and The Thing About Jellyfish, a heartwarming coming-of-age story about grief, family, friendship, and the importance of finding your voice



Wayne Kovok lives in a world of After. After his uncle in the army was killed overseas. After Wayne and his mother survived a plane crash while coming back from the funeral. After he lost his voice.



Wayne has always used his love of facts to communicate ("Did you know more people die each year from shaking a vending machine than from shark attacks?"). Without his voice, how will he wow the prettiest girl in school? How will he stand up to his drill-sergeant grandfather? And how will he share his hopes with his deadbeat dad? It's not until Wayne loses his voice completely that he realizes how much he doesn't say.



Filled with Karen Harrington's signature heart and humor, Mayday tackles an unforgettable journey of family and friendship.
Product details
Age Range:

 

8 - 12 years

Grade Level:

 

3 - 7

Paperback:

 

368 pages
Publisher:

 

Little, Brown Books for Young Readers; Reprint edition (January 2, 2018)
Language:

 

English
ISBN-10:

 

0316298034
ISBN-13:

 

978-0316298032
Product Dimensions:

 

5.2 x 1 x 7.8 inches
Shipping Weight:

 

9.4 ounces