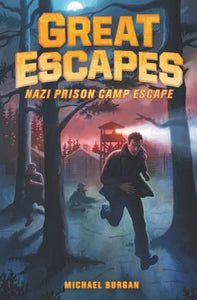 Are you ready for some of the most exciting, death-defying escape stories ever told? Perfect for fans of the I Survived series, the first installment in a brand-new, edge-of-your-seat series based on real events!
In spring 1942, Royal Air Force pilot Bill Ash's plane was shot down by Germans, who captured and eventually brought him to Stalag Luft III, a notorious camp for prisoners of war. The Germans boasted that the camp—which was isolated, heavily guarded, and surrounded by wire fences—was escape proof.
But Ash was ready to prove them wrong. He, along with other POWs, would dig tunnels, hide in shower drains, or jump on trucks—all in the name of freedom. Because resisting the Germans was their mission, and escaping was their duty.
From reluctant reader to total bookworm, each book in this page-turning series—featuring fascinating bonus content and captivating illustrations—will leave you excited for the next adventure! 
Product details
Age Range:

 

8 - 12 years

Grade Level:

 

3 - 7

Series:

 

Great Escapes (Book 1)

Hardcover:

 

128 pages
Publisher:

 

HarperCollins (April 28, 2020)
Language:

 

English
ISBN-10:

 

0062860364
ISBN-13:

 

978-0062860361
Product Dimensions:

 

5.5 x 0.6 x 8.2 inches
Shipping Weight:

 

7.8 ounces