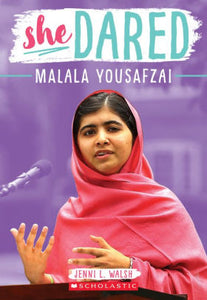 Meet Malala. Get inspired.

Malala Yousafzai always knew she wanted to become a doctor someday. But a new extremist group in her home country of Pakistan wanted to stop girls from going to school.

Malala knew what was important, and so she spoke out. Even after she was attacked on a bus for her views, she persisted.

Learn about Malala's incredible recovery and her journey to becoming a world-famous advocate of girls' rights and education -- and the youngest-ever Nobel Prize winner.

This highly accessible and narrative biography includes full-color photos and educational info!
Product details
Age Range:

 

8 - 12 years

Grade Level:

 

3 - 7

Lexile Measure:

 

700L

Series:

 

She Dared (Book 2)

Paperback:

 

128 pages
Publisher:

 

Scholastic Nonfiction (January 1, 2019)
Language:

 

English
ISBN-10:

 

1338149040
ISBN-13:

 

978-1338149043
Product Dimensions:

 

5.2 x 0.2 x 7.8 inches
Shipping Weight:

 

3.2 ounces