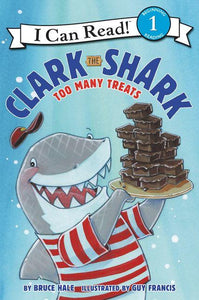 Clark the Shark's mom is making brownies for school. But when Clark decides to taste just one, the impulsive shark can't stop eating! Yum-yum-YUM. Will the class treat be ruined?
With easy-to-read text and Clark's trademark rhymes, this chocolaty Level One tale will have beginning readers ready to take a bite out of reading. Also included are Clark the Shark's Bite-Sized Facts, real facts on shark communication, behavior, and more.
Clark the Shark has been embraced in the elementary school classroom and at home. Kids laugh at his antics, and they also relate to the young shark who always means well but can get himself into scrapes due to his overabundance of energy.
Clark the Shark: Too Many Treats is a Level One I Can Read, which means it's perfect for children learning to sound out words and sentences. Whether shared at home or in a classroom, the short sentences, familiar words, and simple concepts of Level One books support success for children eager to start reading on their own.