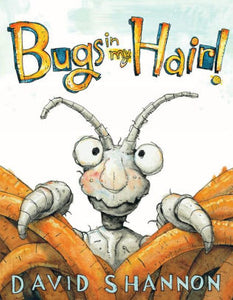 Is something bugging you? Bestselling award-winner David Shannon shows the funny side of waging war against--oh no!--head lice.

This book is guaranteed to make you laugh--and itch! From the opening picture of a happy, oversized louse appearing with his suitcases, you know these bugs are determined to stay, and Mom is about to go nuts!

Nobody talks about them, but they are everywhere. (Some estimate 20 million children a year host them.) Oh the shame and humiliation of having bugs in your hair! But if you go to school, or have play dates, chances are good you might meet them someday. Maybe you already have! Lucky for you, the unwelcome bugs in this story are so funny you will be laughing aloud--even when Mom attacks them with battle-tested anti-lice weapons.

Shannon peppers his hilarious scenes with fun, "nitpicking" facts about these "lousy" critters and pokes fun at common denial: "It's probably ash from that volcano in Pogo Pogo."

Soon the party's over--Bye bye, Little Nasties! Once again Shannon has created a fresh, highly entertaining read-aloud classic that begs to be read again and again.