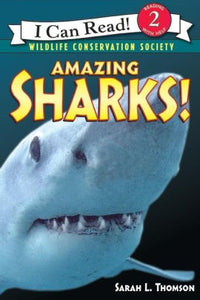 Amazing Sharks! is the fourth book in our exciting series of nonfiction level 2 I Can Read Books filled with AMAZING photos from the Wildlife Conservation Society, one of the world's oldest and most respected wildlife conservation organizations. The series explores the amazing animals that share our world and how we can help them survive.
Did you know that some sharks can . . .
glow in the dark!
grow to be as long as a fire truck!
lose thousands of teeth during their lives!
feel electricity in the water!
This is a Level Two I Can Read, geared for kids who read on their own but still need a little help. Whether shared at home or in a classroom, the engaging stories, longer sentences, and language play of Level Two books are proven to help kids take their next steps toward reading success.
eading success.