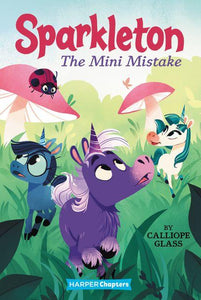 Sparkleton accidentally shrinks his friends before the big talent show in the third book of this full-color early chapter book series about a wishful unicorn who will do anything to get  wish-granting powers—

except his homework.

 


It's a magical mess-up! Sparkleton has a plan to get his unicorn magic before the town's big talent show but one small mistake leads to HUGE problems when—POOM!—Sparkleton shrinks himself and his best friends down to the size of field mice!

Now he may have to do the WORST THING EVER to get them all back to normal—ask his classmate and rival Twinkle for help. Will Sparkleton save the day before the big talent show?

HarperChapters build confident readers one chapter at a time! With short, fast-paced books, art on every page, and milestone markers at the end of every chapter, they're the perfect next step for fans of I Can Read!