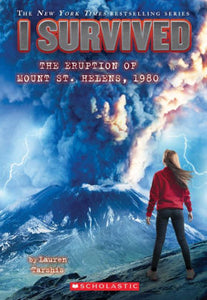 The mountain exploded with the power of ten million tons of dynamite...

Eleven-year-old Jessie Marlowe has grown up with the beautiful Mount St. Helens always in the background. She's hiked its winding trails, dived into its cold lakes, and fished for trout in its streams. Just looking at Mount St. Helens out her window made Jess feel calm, like it was watching over her somehow. Of course, she knew the mountain was a volcano...but not the active kind, not a volcano that could destroy and kill!

Then Mount St. Helens explodes with unimaginable fury. Jess suddenly finds herself in the middle of the deadliest and most destructive volcanic event in U.S. history. Ash and rock are spewing everywhere. Can Jess escape in time?

The newest book in the I Survived series will take readers into one of the most environmentally devastating events in recent U.S. history.
Product details
Age Range:

 

7 - 10 years

Grade Level:

 

2 - 5

Lexile Measure:

 

640L

 



Series:

 

I Survived (Book 14)

Paperback:

 

112 pages
Publisher:

 

Scholastic Paperbacks (August 30, 2016)
Language:

 

English
ISBN-10:

 

0545658527
ISBN-13:

 

978-0545658522
Product Dimensions:

 

8.2 x 0.5 x 7.8 inches
Shipping Weight:

 

4 ounces