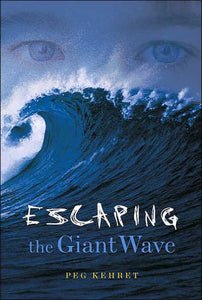 When an earthquake hits on their family vacation, can Kyle and his sister survive the following tsunami?

The Worst Vacation Ever!

Thirteen-year-old Kyle thought spending a vacation on the Oregon coast with his family would be great. He'd never flown before, and he's never seen the Pacific Ocean.

One evening Kyle is left in charge of his younger sister, BeeBee, while his parents attend an adults-only Salesman of the Year dinner on an elegant yacht.

Then the earthquake comes—starting a fire in their hotel! As Kyle and BeeBee fight their way out through smoke and flame, Kyle remembers the sign at the beach that said after an earthquake everyone should go uphill and inland, as far from the ocean as possible. Giant tsunami waves—three or four stories high—can ride in from the sea and engulf anyone who doesn't escape fast enough.

Kyle and BeeBee flee uphill as a tsunami crashes over the beach, the hotel, and the town. The giant wave charges straight up the hillside and through the woods where the children are running for their lives. The perfect vacation has become a nightmare! Somehow Kyle and BeeBee have to outwit nature's fury and save themselves from tsunami terror.
Product details
Age Range:

 

8 - 12 years

Grade Level:

 

3 - 7

Lexile Measure:

 

750L

 



Paperback:

 

160 pages
Publisher:

 

Aladdin; 1 edition (September 1, 2004)
Language:

 

English
ISBN-10:

 

0689852738
ISBN-13:

 

978-0689852732
Product Dimensions:

 

5.1 x 0.4 x 7.6 inches
Shipping Weight:

 

3.5 ounces